Stainless Steel Casework Shelving

Garment Shelving

Weapon Shelving

Art Shelving

Book Shelving

Mailroom Shelving

Bin Shelving
Our selection of specialty shelving includes stainless steel casework shelving, garment shelving, weapon shelving, art shelving, book shelving, mailroom shelving, and bin shelving. All of these shelving options are designed to provide you resourceful ways to solve your unique storage problems.
Stainless Steel Casework Shelving
Stainless steel casework shelving is great for organizations that want toinvest in cabinets and shelving that are long lasting and environmentally friendly. The modular design of stainless steel casework shelving means that it can be repositioned and relocated any time you have changes in your office. Thestainless steel material works well in any type of heathcare setting because of its resistance to germs and bacteria.
Garment Shelving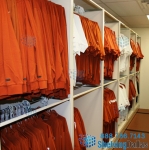 If you need to hang any type of uniform, robe, jersey, or costume, we havespecially designed garment shelving that will keep your clothes accessible andorganized.
Weapon Shelving
Military and law enforcement need secure shelving to house their weapons. Wehave all types of weapon shelving that will keep guns, knives, and ammunitionsafe and secure. Depending on your specific needs, we can provide you with smallor large capacity weapon shelving.
Art Shelving
We recognize that artwork needs to be taken care of and preserved. Our artshelving can store framed art, historical maps, photographs in less space whiletaking great care to preserve the integrity of the art pieces. Museums libraries, historical centers, and art galleries will benefit from the efficient organization and space savings that our art shelving will provide them with.
Book Shelving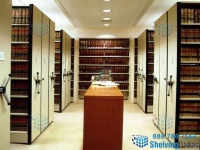 We have book shelving that will store all your frequently used books orarchival books in one centralized area for easy access. Our shelving is h2 enough to handle all types of books and features beautifully designed end panelsthat will make your government, university, public, medical, or school library look very clean and professional.
Mailroom Shelving
Mailroom shelving stores more than just mail. You can keep your documents, files, literature, or brochures organized in mailroom shelving. The multipurpose design lets you configure the shelves exactly the way you want them to store whatever you need them to store.
Bin Shelving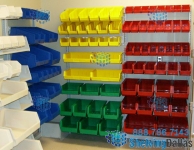 Bin Shelving is excellent for storing and organizing small parts and tools. Parts and components are readily accessible and easy to find when they are stored on bin shelving. We have all types of bin shelving available to meet your specific needs.